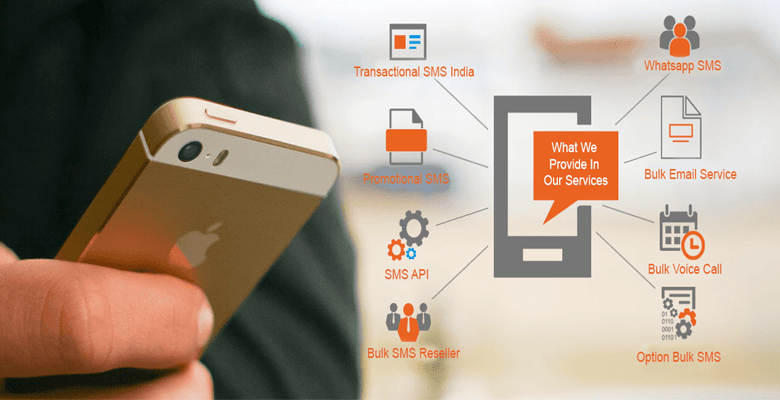 Bulk SMS refers to sending large number of SMS messages to mobile phones of a predetermined group of recipients. At present, the application to person SMS messaging services includes bulk SMS messaging alongside sending single messages, interactive messaging, and incoming number services. 
A significant advantage of bulk SMS messaging is that businesses can make use of several solutions to send or receive messages via a cell phone application, software program, a web interface, or an SMS API with their website or system.
In the era of mobile revolution, it is extremely important to stay in touch with technology at all times. Bulk SMS are the fastest way for conveying information within groups to several members, just within seconds. However, with the ever so strict rules and limitations on messaging services, online bulk SMS service comes as a boon to all tech savvy individuals. With this service, you can easily send SMS online to any mobile number in India using a very simple procedure.
It helps you to improve your business quickly and without any hassles. The bulk SMS service is easily accessible on all devices including laptop, desktop, and the internet enabled mobile phone. All you need is an internet connection to avail cheap bulk SMS service from anywhere and at any time.
There are two categories of SMS
Category   

 
Alpha Sender ID  
 
Delivery Windows 
 
Can be delivered to DND numbers?

Promotional  SMS

 

 Not Available  

Only numeric

sender id

e.g LM:610410

 
9 AM to 9 PM
 
No, you can not send Promotional SMS to DND numbers.
Transactional  SMS
 

 Yes, Available    

Exactly six Characters

alpha sender id

e.g LM:AXISBK 

 
24 Hrs 
 
Yes, Transactional SMS can be delivered to all the numbers
 
 
 
 
 
 
 
The bulk SMS service is at an affordable price. We help you send messages to multiple users with the extremely user-friendly interface. We can assure you the instant delivery of SMS and that too at cheapest pricing.
| | |
| --- | --- |
| Messages deliver instantly | |
| Messages deliver to all non-NCPR/DND numbers | Meant for marketing & informational campaigns |
| Secure account to log in, send messages, etc. | View & download message delivery reports |
| Upload contact list from a text file or Excel sheet | Messages delivers with a numeric sender id |
| Online interface or software integration options | Groups feature to manage contact numbers |
| Schedule messages for later time | |
How Does Businesses Use Bulk SMS?
With the highly competitive market, business entrepreneurs are constantly striving to look for new ways that could help them reach out to a number of potential customers at the earliest. With modern forms of communication and interaction, businesses can promote their brand to a wider audience within minutes.
Bulk SMS is a new age technology that has attracted youngsters and businesses, which use it as effective means of marketing. For instance, with the bulk SMS facility, businesses promote discounts, special events, new stocks and freebies to customers within minutes. 
The concept of bulk SMS has gained popularity for its simple, reliable and speedy functionalities. Very often, a business can't contact a person with a simple telephone call; nevertheless, with the help of a text message, a business can convey their message in a short and precise manner. 
It has been noticed that in comparison to the other modes of messaging, short message services is effective and useful with a high rate of flexibility and benefits. Interacting with customers makes for an important part of modern age marketing. Customers like a brand that maintains a personal communication level with them, making it important and valued. 
Bulk SMS definitely plays a major role with easy to access options. A business keeps their customers updated about various events and get feedback; reviews and reports from their clients which will in turn help them develop and improve their business.
Why should businesses use bulk SMS?
Bulk SMS tool is a useful and effective marketing channel that need not be separated in part of a mobile marketing tactic that aims at achieving success in the mobile world. Cell phones are used a lot more than any other device and it makes the mobile marketing a key point in every marketing plan. Mobile marketing is essential in every business that needs to have a competitive edge over their competitors and balance an advantage within the industry. 
Whether you have just started a new business or have been running a business for a while, you can't deny the fact that marketing should be an important part of a business structure. When it comes to talking about mobile marketing, SMS marketing is the main goal as SMS has proved to be one of the best marketing and sales tools. A tiny piece of information, sent from your cell phone will only take a couple of minutes to reach a wide range of people. No other marketing tool can offer the best efficiency rate, which is why SMS marketing should be used. Reasons for Using SMS Bulk
Reasons for Using SMS Bulk
Boost sales
Bulk SMS is the best way to increase your business sales, as it is very effective way to promote new products and offers. With this in mind, bulk SMS is likely to opened contrary to an email, which will probably end up in the spam folder.

Instant Feedback 
Bulk SMS are used by smart brands to request their customers to rate a service or give a feedback after an interaction. It can be used as a rating service by asking customers to rate their experience as soon as they leave a store. Bulk SMS can be sent within minutes and can be read quickly.

Reminders 
Presently, we are constantly bombarded with a lot of information, which leads to forgetting dates, events and promotions. The client needs a reminder about schedules or arrangements. Bulk SMS can be used to inform customers about the time and location of an appointment or meeting. 
The perception of a company can be improved with sending customers a reminder of a booked event like a fitness class, a consultation or an upcoming sale, especially since they are likely to have forgotten about the arrangement. It can save a business time and money.

Ultimate convenience 
E-commerce companies are the perfect examples of attracting customers to their brands. They use well- timed bulk SMS alerts to keep customers updated about their orders and delivery status.