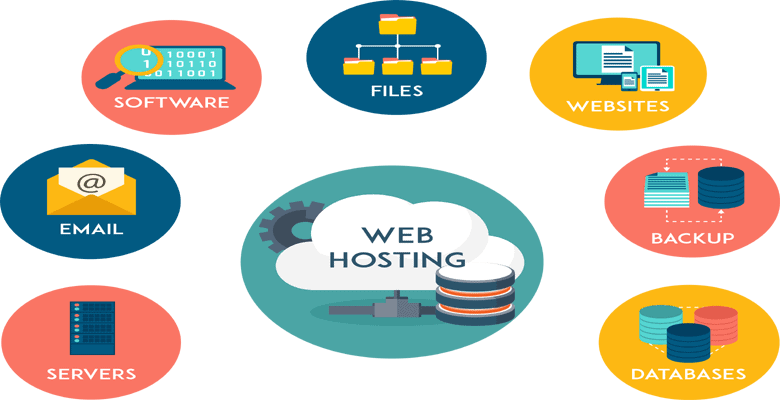 A Web host is an organization that sells or leases memory space on its servers. Web hosting is typically done in a data center, which provides services to clients that enable them to publish websites on the Internet. A Web host can also provide data center space and an Internet connection for servers owned by others. The web hosting services provided by a Web host is called Web hosting
Web hosting services that allows entities and individuals to post a website or web page onto the Internet. We help you in selecting correct web hosting service provider that provides the technologies and services needed for the website or webpage to be viewed on the Internet. Websites are hosted, or stored, on special computers called servers.
The basic features of a hosting plan include:
Disk Space
Email Accounts
There are various types of web hosting services available to host your website. Before signing up for web hosting services, it is important to understand what kind of service your website needs, the kind of server you or your business needs, your budget, and what type of services the web host offers.
Hosting options available are:
Shared Hosting
Dedicated Hosting
Shared Hosting
In a shared hosting environment, your and other website owners shared one server. This includes sharing the physical server and the software applications within the server. Shared hosting services are affordable because the cost to operate the server is shared between you and these other owners. There are, however, a number of downsides, such as being slower.
Dedicated Hosting
In a dedicated hosting environment, you have the entire web server to yourself. This allows for faster performance, as you have all the server's resources entirely, without sharing with other website owners. However, this also means that you will be responsible for the cost of server operation entirely. This is a good choice for websites that requires a lot of system resources or need a higher level of security.
A Web host may be either an Internet service provider, or companies that specifically provide a Web hosting services in india, such as GoDaddy, BlueHost and FatCow. Personal websites are often provided for free, while business websites are much more expensive.
The percentage of time the Web host server is actually connected to the Internet, thus allowing access to the websites it hosts, is called uptime. This value is typically higher than 99 percent, with about 45 minutes of downtime per month for maintenance.
There are many types of Web hosts and Web hosting services. These include:
Shared Web Hosting: Numerous sites are hosted on the same server.
Reseller Hosting: Clients are allowed to be Web hosts themselves.
Dedicated Hosting: The client/user gains full control of the server, but often does not actually own the hardware.
Managed Hosting: The user/client does not have full control, allowing the Web host to assure the quality of the service. The user may manage data using FTP or remote management tools.
Cloud Hosting
Cluster Hosting
Grid Hosting
Those looking for a Web host need to examine their requirements before choosing a Web hosting services. Some of these may include database server software, software for writing scripts, emails for business purposes, streaming media and the operating system offered. Often the technical aspects of managing a website may be more easily managed if the Web host also provides a Web content management system.
Every website that you visit consists of a domain name and a web host. The easiest way to picture it is to think of the domain name as the address and the web hosting as the physical building.
When you're browsing the web and you type in a URL (i.e. http://www.hostinger.com), your web browser basically queries that domain name (i.e. hostinger.com) and asks it where the website is hosted. The browser then loads up the contents that are stored there.
Web hosting is effectively the process of using a server to host a website, and there are all sorts of different types of web hosting available out there on the market. Hostigner, just like most web hosts offer different packages so that their customers can pay for just the resources that they need. The more popular the website is, the more resources it's likely to need to function effectively.
The good news is that with Hostinger, you can scale your web hosting package as and when you need it, so you can start off with Single hosting plan and gradually upgrade to Business or even VPS plan later.
How does web hosting work?
Your website is basically a collection of files and (in most cases) database that are served up to your visitors as they browse around it. Hostinger will allocate space for you to store your website and database.
When you sign up Hostinger, you'll receive login details to access your hosting account's admin panel.
At Hostinger, we offer custom built hosting control panel. Using our control panel you can carry out basic hosting management, monitor resource usage, create email addresses and install content management systems (CMSs) like WordPress. Note that this is different to the admin panel for your website, which will be created when you install a CMS. This is the admin panel for your server as a whole.