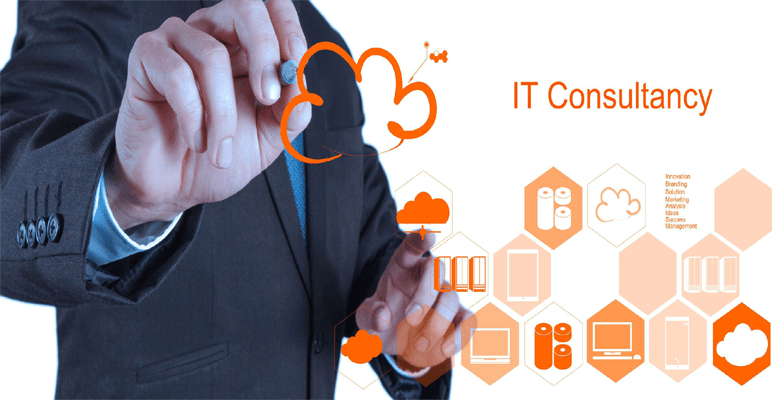 An information technology consultant (IT consultant) is an individual that provides advice, guidelines and a road map for sourcing, utilizing and managing IT assets and resources. An IT consultant provides organizations with best practices for using IT solutions and services for their business objectives and in solving their problems.
Immense Softwares Solutions also plays a role of Consultant and truely focuses on advising the client on how to use information technology in achieving their business objectives in the better way.In addition to providing advice, we often estimate, manage, implement, deploy, and administer IT systems on behalf of our client organisations.
How we help our clients?
We help our clients to gain achieve targeted objective through our technical skills, advice, and recommendation.
We provide specialised expertise views to our clients.
We outsource all or part of the IT services from a specific company.
As an IT Consultant, we support and nurture our client from the very beginning of the project till the end, and deliver the project not only in the scope, time and cost but also with complete customer satisfaction.
An IT consultant needs to possess the following skills:
Advisory skills
Technical skills
Business skills
Communication skills
Management skills
Advisory language skills
Business and management language skills
Technical language skills
IT consulting services  are an integral part of consulting. The objective of seeking IT consultancy in india is to stay updated and competitive in marketplace as per the latest technology trends. 21st century businesses owners are often seen searching for such services for adding value to their business. Most of the time, they trust IT consulting firms from Melbourne because their professionals understand the best possible ways of optimizing existing infrastructures installed by their clients. They advise their clients about the ways they can best use their existing IT infrastructure.
Businesses from all parts of the world are nowadays trusting IT consulting firms in Melbourne for..
Getting external advice and recommendations to enhance their existing IT infrastructure.
Accessing the expertise of IT consultants.
Seeking help during an OTP (One Time Project) where you don't need permanent resources.
For outsourcing every aspect of every IT related job from their company.
Moreover, professionals associated with them have the following skills:
Advisory skills
Technical language skills
Effective communication skills
Technical Skills
Skills for effective management of business and language
Business skills
Management skills
Advisory language skills.
In case you are thinking about hiring an IT consulting firm in Melbourne, remember to check the quality of work they have done for some other client from your industry.
Benefits and drawbacks of working with consultants
The IT consultant's specialized knowledge — and the ability to tap into it as needed — is one benefit of working with a consultant. Turning to a consultant may make sense when it's impractical or too costly to hire a full-time employee for expertise that's only needed temporarily. Major business systems upgrades only happen occasionally,
An IT consultant's independence is another advantage for organizations. Consultants are often hired to help troubleshoot problems in complex systems. Because a consultant performs in an advisory capacity, he or she has the freedom to identify problems and propose solutions that an in-house employee might be reluctant to advance. 
However, it may prove challenging to take a consultant's ideas and make them a reality. A consultant may make a useful recommendation, but the client may lack the knowledge or skills to successfully execute the envisioned strategy. Once the consultant leaves, the suggested course of action may never gain traction. Conversely, the IT consultant may be retained to oversee the implementation of a particular recommendation in a subsequent project or projects. This situation, however, can lead to an expensive dependency on outside help.